Wedding Gifts for Newlyweds - MyDreamVibe
Aug 25,2021 | MyDreamVibe. Co
Wedding Gifts for Newlyweds
Every marriage has that one important event and that is the couple's big day, the wedding. Therefore, it is important that your gift to the newly weds be from the heart because what other days to bless them other than on their big day?
A wedding gift is a form of blessing from a beloved guest to express their congratulations and heartfelt wishes for the couple's marriage. We want the best for our friends who are getting married and that is why we bless with extravagant gifts. No one comes to the banquet empty handed.
I'm sure there are some gifts that might not please the couple, but can you bear to ruin their big day? After all, getting invited to a wedding is an honor, and selecting a suitable gift is the very least you could do! So let's help you find some of the best Wedding Gifts for Newlyweds you can purchase or customise personally here in Singapore.
1) Mr. and Mrs. Mugs
A simple yet useful gift. Mugs when selected carefully can actually be the prettiest things around their new home. They can also be custom-made for couples, making them one of the greatest wedding gifts available.
2) Romantic Pillow covers
A set of pillow covers is another simple but extremely useful gift. This present will make the newlyweds' sleep a breeze. It will be a lovely addition to the couple's newly furnished house and will undoubtedly brighten the couple's wedding day. Furthermore, to give a unique twist, the pair prints are lovely.
3) Mr. and Mrs. Personalized Name Coasters
You may not think of coasters as a wedding gift but believe us when we say that they are among the best wedding gifts on the market! Coasters are sometimes neglected, yet they are quite useful in the kitchen.
4) Home's Towel Gift Set
Personalise Towels
are always a good choice as a gift. A towel is not only a necessity for the home, but it also represents warmth, comfort, and light as a gift. Home towels are unlike any other, providing you with the comfort you have always desired. Bamboo towels are also a good choice for individuals who desire antibacterial and hypoallergenic qualities.
5) Couple Kitchen Apron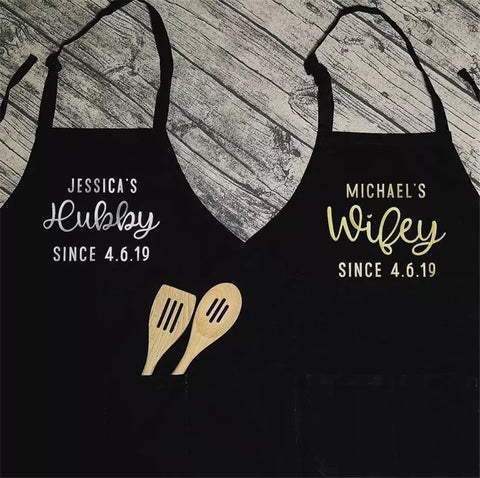 After they've established into their new home nest, the pair is likely to want to try their hand at cooking or baking. Getting them each an apron will be a useful present for them to use in the kitchen. This pair of aprons can also be customised to their liking.
Conclusion: Giving gifts is a way of showing your affection towards the couple. These gifts will always remind the couple of your blessings and they will always cherish the moment when they tied the knot. The price of the gift does not matter, what matters the most is the sincerity, with which the gift is given.
Comment